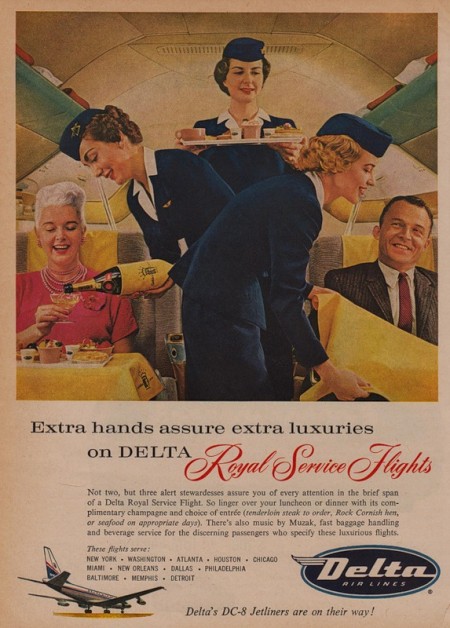 It has been over two years since my last Delta flight. Mike, Stacey, Dan and I were taking a Christmas flight to California from Salt Lake City, Utah. After a long delay, they finally boarded our plane and we thought we were going to get to California, even if we were more than a couple hours late. Then we sat in the plane. And we sat. And we SAT! Our plane was still at the gate, but the doors were closed and we were not allowed to leave. We waited in that damn plane for FIVE hours before they finally taxied down the runway.
That wasn't even the end of the story. Because they had waited so long, they couldn't land at our destination airport because it was CLOSED, so they landed at Orange County and "graciously" offered to bus us to John Wayne Airport. Of course, it was closed, so we wouldn't have been able to get a cab there to our hotel, so we ended up paying THREE times as much for a cab ride to our hotel in Anaheim.
They offered us some points on our Delta Miles, which turned out to be useless (like all those miles are). They didn't feed us. They didn't let us just GET OFF the plane. They barely apologized. In the end, it took us ELEVEN hours from the time we arrived at the SLC airport to the time we got to our hotel. We could have DRIVEN it in that time and Delta did NOTHING to reimburse us.
We haven't flown Delta since.
This isn't the first time something like this happened. Here is a famous YouTube video of someone who had a VERY similar experience as ours:
Just watching that video gives me flashbacks. In fact, it became so ubiquitous that 30 Rock wrote a plot line about being trapped on the tarmac. You can actually watch the whole episode on HULU here:
I broke into a cold sweat as I watched that episode and when Liz Lemon tried to defend us, I applauded.
You know what? This is WRONG! I can see the terminal from my window, where people are buying new magazines and crossing their legs and eating at a Chili's Express. We were like them once and we CAN BE AGAIN! We still have our dignity.

Are your passengers just cattle, or are maybe some of them, maybe even just ONE of them, someone you care about?

If this is you doing your job, you're TERRIBLE at it!
That entire episode left me shellshocked from our experience. It's nice to know that the Department of Transportation is trying to do SOMETHING to protect us from situations like this. Consumer Reports gives us the information on the new rules that the airlines have to follow.
Here are the rules to protect you:
If a U.S. or international flight sits on the tarmac for more than four hours the DOT can impose fines of up to $27,500 per passenger.
Passengers bumped from an oversold flight must be compensated double the price of the purchased ticket (up to $650), unless the airline gets them to their destination within a few hours. Currently, compensation is equal to the ticket up to $400. If the arrival time of bumped travelers is delayed by more than a few hours it would mean payments of four times the value of a ticket, up to $1,300. Currently, that compensation is capped at $800.
Airlines must prominently display all fees on their websites, including fees for checked bags, in-flight meals and cancelled reservations.
Had Delta been facing a fine of almost two million dollars for my flight so many years ago, I think they would have cancelled it rather than lock us in that plane for HOURS. The four of us could have retrieved our luggage and driven to California in the same amount of time that they tortured us. Hopefully, these new rules will urge the airlines to treat us more like customers and less like cattle.
Via: Lifehacker: Make Sure You Get Fair Treatment Thanks to the Department of Transportation's New Air Travel Rules