The Long Long Honeymoon had a wonderful experience camping in the snow. Here is the video they made about it.
I particularly like seeing how they back into the camping site. It looks so easy and efficient. I've seen hundreds of campers trying to back into their sites at campgrounds all over this nation and it is NEVER this easy and efficient. Either clever editing has occurred or they are SO used to camping life that it is down to a science for them.
Most of the time, a big camper like their Airstream would still be pulling in and out, inches at a time, while we hand roll our tent camper into its spot. We can get our little tent trailer into its spot, hooked up and set up before most big trailers can park. It's a lot more heavy labor to do it than positioning a huge vehicle, but it certainly takes less time.
Last year, we camped in freezing weather that surprised the camping folks in Las Vegas and Arizona. The RV resort in Vegas was SO surprised that they didn't turn off their water features, which froze solid overnight.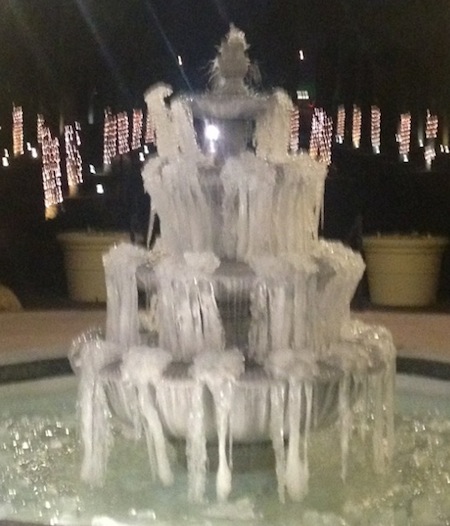 We were able to stay warm all night with two electric heaters, even though temperatures dipped down to the upper teens. It appears they were camping in the national park, however, so there are no electrical hookups to run electric heaters. They had to stock up on their propane.
The next time you feel trapped at home because it's too cold to go camping, remember this. You can have an inexpensive and beautiful get-away as long as you're willing to prepare for the cold.