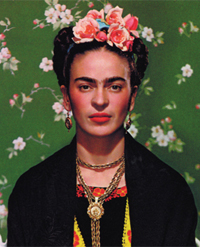 The Utah Museum of Fine Art has an exhibit right now called, Frida Kahlo through the Lens of Nickolas Muray. Nickolas Muray was a famous photographer who lived in the United States. Frida Kahlo was a famous surrealist painter who lived in Mexico. They were introduced by friends when Frida traveled to New York with her husband, Diego Rivera. The subsequent love affair seems unfathomable to me.
I toured the halls of the museum reading Frida's letters, trying to understand her willingness to have such an open affair with a man while still married. According to the rumors, Diego also had many affairs. They had an "open" relationship forty years before there was a name for it.
All of this is new to me. I was never taught anything about Frida Kahlo in school. I don't know if it was because she was a woman, a socialist or an artist. My public school education was very light on the arts. I concentrated on things I thought would get me a job. I think I might have enjoyed school a little more if I had heard about this torrid affair and seen the loving photos of an artist.
The beauty of traveling is going to museums in other cities. Check the schedule for the art museum in your city and see if this exhibit is coming your way. It's worth the time and you will feel as if you had a mini vacation in your own town.
Where: The Utah Museum of Fine Art 410 Campus Center Drive, Salt Lake City, UT 84112-0350 Google Map Phone: 801-581-7332
Click here for a detailed biography of Frida Kahlo:
Click here for Frida Kahlo Quotations: