I'm always fascinated by restaurants that name themselves after a city. Big Apple Pizzeria is one of those places that focuses on how "New York" their pizza is. Having never been to New York, pizza is something that I equate with my hometown, Salt Lake City, so having them brag about being like New York pizza isn't really an enticement to me.
Good food is, though.
We went to Big Apple to try out their original "Bender". In their own words:
"A Bender is Big Apple Pizza's own original creation. Your choice of meat and cheese is heated on pizza crust then topped with onion, green pepper, lettuce and tomato and then folded over to create a delicious pizza bread sandwich."
When I read that description off the menu that had been left on my windshield out loud to Mike, we decided to go to Big Apple the next day. We HAD to go on a Bender…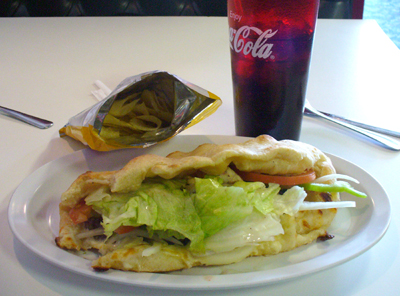 Since there were no pictures of a Bender, I had to ask the guy behind the counter about it:
"Is it messy?"
"Messy?"
"Yeah, is it going to drip?"
"Yeah, it will probably drip."
He should have just told me that I wouldn't be able to eat it with my hands. It's definitely a knife and fork meal, so don't order it and expect to be able to eat it on the run in your car. That being said, it is worth every second you spend at the table with your knife and fork. Food this good shouldn't be eaten on the run.
To top off the meal, we ordered their cannoli:
"Your menu said you have cannolis?"
"Yeah, which do you want, chocolate or normal?"
Mike and I looked at each other and I answered, "One of each."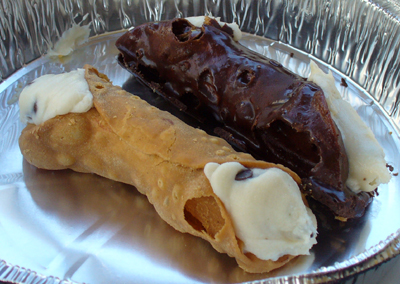 We have been driving up to Park City for our cannolis because we haven't been able to find a good one down here. The ones from Big Apple were a little too sweet for my taste. I prefer the marscapone to be a little more savory, so we'll still go up to Park City for cannolis, but there is no where else where we can get a Bender.
It's a Salt Lake City Original, and that's something to brag about!
---
Where (Two Locations):
2939 East 3300 South, Salt Lake City, Utah Google Map Phone: 801-485-4534
7206 South 900 East, Midvale, Utah Google Map Phone: 801-568-9095