This postcard from PostSecret talks about drawing in hotel bibles.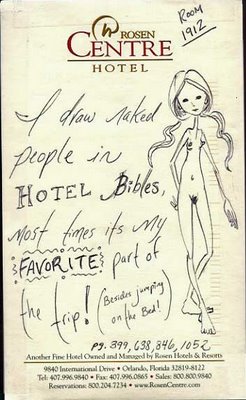 It reads:
Room 1912
I draw naked people in hotel bibles, most times it's my FAVORITE part of the trip. (Besides jumping on the bed!)
Pg. 399, 638, 846, 1052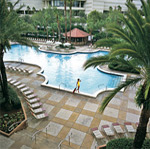 The secret was written on stationery for the Rosen Centre Hotel in Orlando, Florida:
It's like a scavenger hunt to find the naked pictures before the hotel staff does.
I've left money in hotel bibles before. I talked about it here:
I have never written in one except to underline a particularly interesting passage. Have you ever written in a hotel bible? If so, do you remember which hotel and room?
---
PostSecret's beneficiary is the National Hopeline Network. It is a 24-hour hotline (1 (800) SUICIDE) for anyone who is thinking about suicide or knows someone who is considering it.