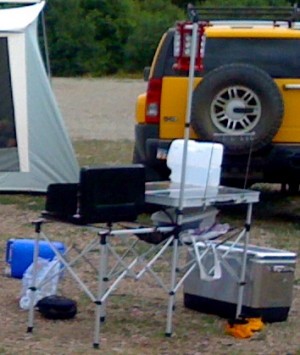 For years, I happily used the Coleman Pack-Away Kitchen. Last summer, I broke the aluminum supports along the side and I suddenly found myself in the position of having no camp kitchen. It only took half a campout until I knew I needed to replace the Coleman.
Having a camp kitchen might seem redundant when almost every campsite has a picnic table, and quite frankly it is, but there are so many times when we have needed the camp kitchen that the thought of camping without one is unpleasant now. Often, the picnic table is broken, a frozen slab of crumbling concrete or flat out missing, and when we boondock camp, the thought of the luxury of a picnic table is laughable. Our camp kitchen has saved us every time.
I looked at lots of camp kitchens at every camping store in the city and even online. I very nearly bought the Coleman again just because it packed up so neatly and small. Even now, I still miss that camp kitchen because it was so easy to carry. If you have limited space in your car for packing up camping gear, it's truly the best choice.
In the end, I ended up buying the Mega Camp Kitchen With Closets at Sportsman's Warehouse.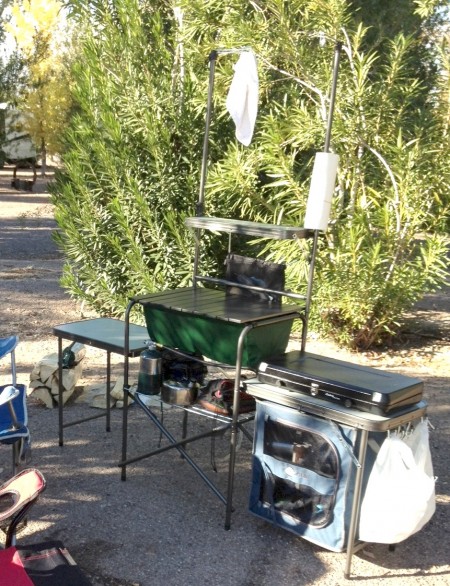 I put the paper towels on the poles instead of on the holder to keep them from flying in the wind. I use a couple of plastic bins in the sink (one for soapy and another for rinsing water) and so I don't use the drain on the sink. We used the soapy water to put out the fire at night. As you can see, the dish pantry is attached on the right. The food pantry was locked up in the car when I took this photo to prevent critters from eating our food, but it hangs on the left. The hooks on the sides are great for plastic grocery bags. Hang them there and use them for garbage. They're small enough that you can dispose of them every night to keep the animals away.
Setting up this camp kitchen takes hardly any time now, but it was a little difficult to figure out the first time. This is a setup video of a very similar camp kitchen available at Cabelas. I actually looked at this kitchen, but it cost forty bucks more than the one I found at Sportsman's Warehouse. Mine is almost exactly the same as this one, except my middle table is a light, foldable top and my zippered food/dish pantry bags are blue instead of green.
Whether you go with the tiny Coleman kitchen or a huge mega kitchen like I found, having one makes camping cooking much easier.