Our Springbar tent is better than our old Hobitat in every way except one: storage. The Hobitat had tons of pockets all over the inside of the tent, so it was a change for us to camp in the Springbar. The tent came with one storage closet, which is a zip-in panel with a bunch of little pockets, and one hamper, which is like a laundry bag.
One is supposed to zip in on one side of the tent and the other on the other side. After having so many pockets in our Hobitat, however, I just couldn't go to having so few places to put stuff. To solve that problem, I bought one additional closet and one additional hamper. Hanging them, however, was the problem. There are only two inside zippers in the tent, so I had to find a way to hang the additional items.
Here's how I solved the problem: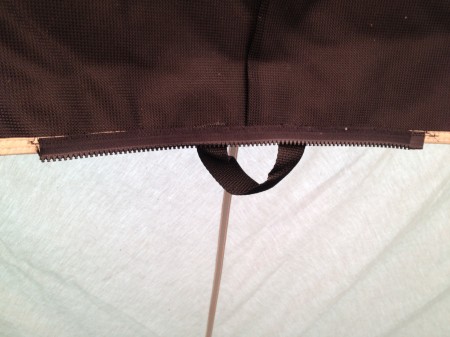 I sewed a zipper onto the bottom of each storage closet so that the hamper could attach to the bottom of it. Here is it with the hamper partially zipped.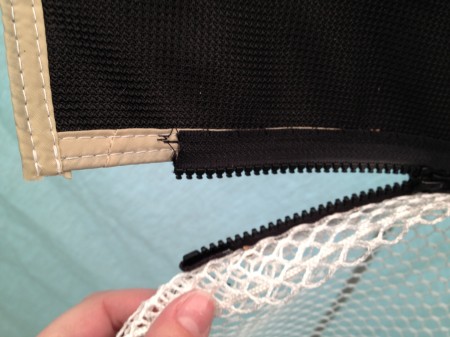 Now, both Mike and I each have a closet and hamper of our own. That is barely enough pockets for the each of us. Here is how it looks all together.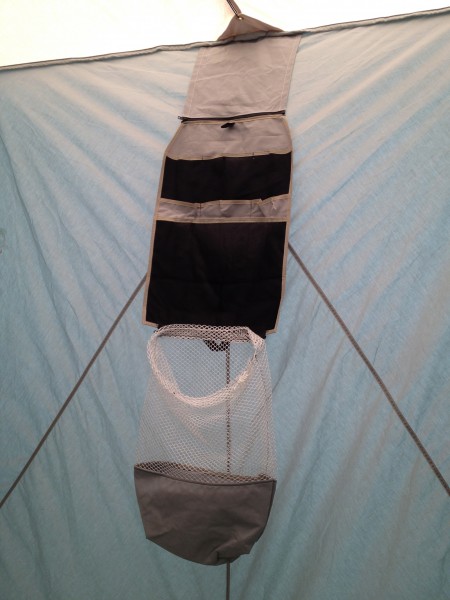 That additional loop on the bottom of the closet is also something I added. It's for our toiletries bag. There is a loop on the closet, but when we hung the toiletries bag from it, it covered our pockets. This way, we can hang the bag, but it will hide behind the clothes hamper.
We also had a problem with no loops for our lanterns to hang from, so we added string to the top with a few loops in it. This is such a simple thing to do, but it took us a while before we realized how to add those loops. Springbar had added a spot to tie the string, but we didn't make the connection until Dan mentioned it to us.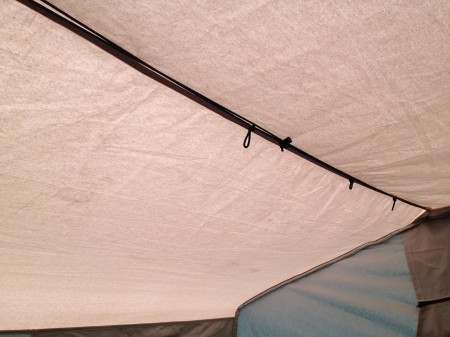 Having that string taut across the ceiling of the tent is good for us because we can hang our wet towels over it to dry. I wouldn't trust the loops to hold a heavy thing, like those fans that are supposed to cool off your tent, but they are perfectly fine for a small flashlight or our LED lanterns.
When you order your Springbar tent, don't be disappointed in the amount of storage you have. Order an extra closet and hamper and add zippers to the bottom of each closet. You'll have plenty of pockets to hold all your stuff.