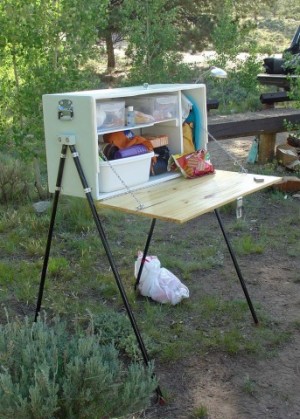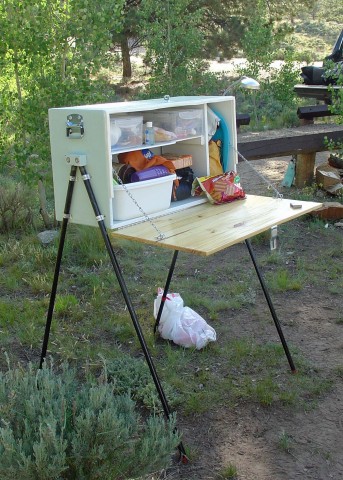 I bought my camp kitchen from a store, but I adore this homemade camp kitchen from this blogger, pwef. He talks about the design of it on these two posts:
He based the original design on the Boy Scouts of America patrol box, but made it so much better.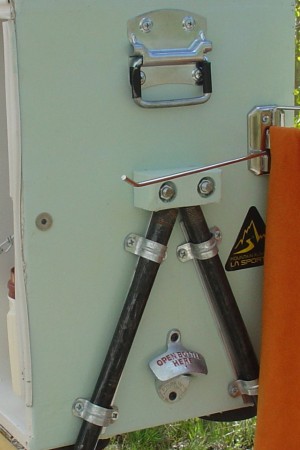 Instead of the heavy, wooden legs, he used pipes that slide into the fittings. You can also see that he attached a towel rack that also holds his paper towels. He even added a bottle opener.
The camp kitchen opens in such a way that it needs to be on its legs to open up. He ended up adding little legs to the bottom so that he can just set it on a table to open and leave the legs in the car. You can see the little legs in this photo (they are the black nubbins on the bottom of the box). He said that if he made another one, he would design it to open flush.
He built it to work with his Coleman fold up stove, but the stove doesn't have wind shields, so he ended up adding a windshield himself in addition to another shelf on the left side for extra workspace.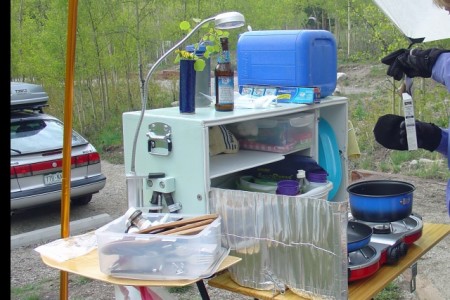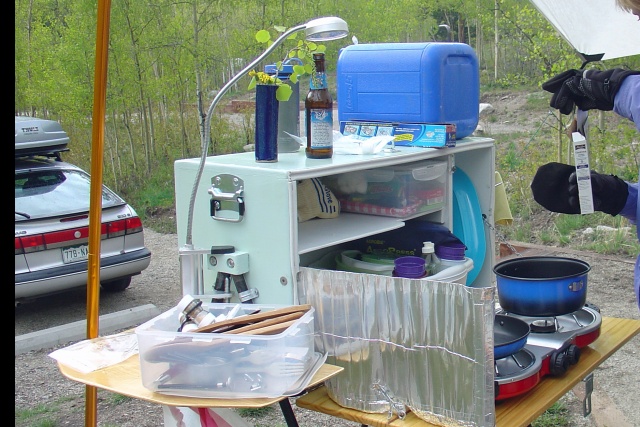 I felt a sense of camaraderie with him because he has the exact same pan set that we use. I could imagine making meals with that very chuck box while camping instead of my camp kitchen and it looked like fun.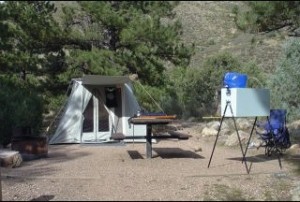 I really liked that he painted the box to match his Springbar tent. They look really good together at camp, don't you think?
I love the idea of being able to choose exactly the features I want for my camp kitchen instead of being at the mercy of the camping manufacturers. If I ever break my Mega Camp Kitchen like I did my Coleman, I think I will choose to design my own camp kitchen.