I found this trailer in my local classified listings the other day and I was enchanted with it.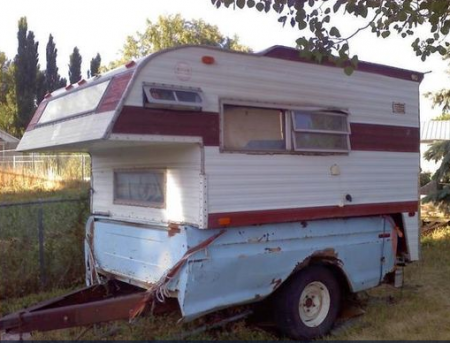 For two hundred bucks, it didn't promise me very much.
Looking to sell camper with trailer bed. has been fun for camping trips. ice box fridge. table that folds into bed. second pull out bed up top. with cushions. closet to hang clothes. three burner stove, oven, and heater all work good. propane tank. no leaks. priced to sell for spring.
I don't know whether there are no leaks in the propane tank or if the owner promises that the roof of the trailer doesn't have a leak, but it doesn't matter. Mike would never be seen in a trailer that looked like this.
I, on the other hand, could think of a bunch of reasons to use a trailer like this.
It only cost $200, so I don't care if it breaks down in a year.
If the roof starts leaking or the axle breaks, I can just haul the thing to the dump and be done with it. It only cost me $200, so as long as it lasts one camping season, it has done its job. Any more time than that is just gravy.
People will be shocked that I am not a redneck or they'll assume I am.
If they assume I'm a redneck and avoid me, I didn't particularly want to meet someone who is that judgmental. If they are nice enough to get to know me, then they'll probably be impressed that I have all my teeth and can articulate a coherent thought with wit. If they automatically like me because they are rednecks as well, then that's one more friendly person I'll encounter that trip.
Ugly trailers are just as warm as pretty ones.
My biggest problem with camping is that I get COLD in those Utah mountains. There is only a two month window in which camping in a tent is pleasant in Utah, but I want to camp all year long. This ugly trailer could keep me warm on those cold nights in March and October.
No phone, no lights, no motorhome, not a single luxury.
If there is no toilet, there is no black water tank to empty. If there is no faucet, there is no fresh water tank to worry about. The plainer the trailer, the easier it will be to maintain.
It's the ugliest trailer in the campground.
If there is a thief breaking into campers, he will pass right by this rusty old thing. I could have an LCD TV and several iPods in that trailer, but they'd be safe as could be because no one would believe that we could have anything nice in a trailer that ugly.
The next time you cringe at how ugly your camping trailer is, remember that there are several benefits to owning an old and beat up trailer. Take that old girl out on your next camping trip and be proud of her.