Interstellar Orchard wrote an entry about what she loved about RVing and it really inspired me to talk about what I love. Here's her post: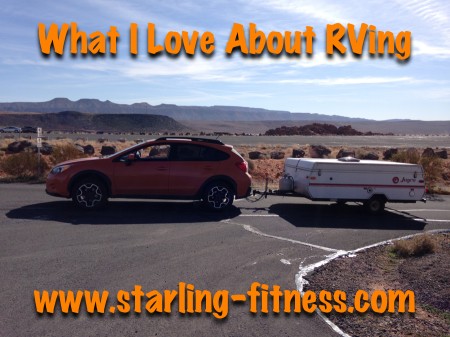 I'm not a full-time RVer like she is, so when we pull out the trailer, it's strictly for travel and adventure, not about a lifestyle. That said, I find an incredible amount of joy in that tiny tent trailer and I thought I share it with you.
We Bring Our Home With Us
One of the most unpleasant parts of traveling for me was getting used to the hotel room. A hotel room never feels like home. It never feels comfortable to me. I'm not bothered by people in the rooms nearby, but the bed feels different and the pillow doesn't smell like me.
Okay, that sounded totally gross, but never discount the animal instincts of smell.
With the trailer, it feels like home to me. The cleanly washed sheets are my own. The surroundings are very comforting, despite the old 90s decor. Once that trailer is popped up, any campground feels like home.
Eating Is Easier
With the trailer, we can cook almost anything that we could cook at home. We don't have a fancy microwave or fridge in the trailer, but a cooler and a hot plate works for almost every one of our favorite recipes.
More importantly, before the trailer, I always felt as if I were at the mercy of whatever restaurants were around. Honestly, it was a huge source of stress for me. Knowing that I can whip up a meal at the campground makes vacationing more relaxing for me because I don't worry about what I'm going to eat.
It's Cheaper, So We Can Travel More Often
With the Prius and the Subaru XV, we get about 30 mpg while towing the trailer, so bringing the trailer hardly affects our gasoline costs. However, being able to set up the camper at a KOA or state park usually costs about 25 bucks or so, whereas a hotel usually costs about $70 (or more). We can plan more trips with the trailer than we could when we had to depend on hotels.
Additionally, being able to cook at the campground saves us a bunch of money. It's not just the worry of eating at restaurants that bothers me, it's the cost. We save money with every meal made on that hot plate in the camper.
I would rather travel more often than travel in luxury. I can do that with all the money we save by using the camper.
We Can Travel To More Places
There are some places where there just ISN'T a hotel: down by the river in the woods, up in the mountains by the reservoir, and right next to Disney World at Camp Wilderness. I have seen fireflies flashing in front of my face while I ate burgers that Mike grilled for me. I have enjoyed watching water-skiers and heard them screaming, "Woo!" during my morning breakfast and coffee. I have shivered next to a fire that's crackling and smelling like a good Scotch, eager for its warmth.
I couldn't have had those experiences at Holiday Inn. Not even a room with a balcony overlooking the ocean could compete with some of those experiences, especially when I know that I could be camping at the campground that is RIGHT on the beach.
One Day Camping Feels Like Three Days
My friend Matt Strebe once said to us, "One day of camping feels like three days." I think that might have been because there weren't any showers at that campground, so we all SMELLED like it had been three days.
He's right, though. When we are camping, time seems to slow down. We don't have a TV in the trailer, so that might be why we feel like there is more time. I always feel like I don't get enough travel time, but camping extends things a bit, making it feel longer.
I Love RVing
In the end, I love to hitch up the tent trailer and start driving. I look forward to it, even when it's just a two-day jaunt for the weekend. I'm so glad that we bought that cheap trailer, even though something breaks every time we take it out, because it gives us a freedom that we didn't have before. That's why I love RVing.