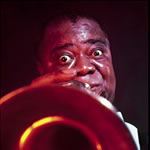 Austin seems to be burgeoning with museums. When I compare it to my hometown, I feel a little ashamed of the plethora of pioneer museums when Austin has so much art and WORLD history at their disposal.
The Harry Ransom Center has a wide variety of exhibits to enjoy while you are there and if you are stuck at home or work right now, you can take a virtual vacation with their online exhibits.
Take a break from your day and enjoy the art and history from the Harry Ransom Center in Austin, Texas.
---
Where: 21st and Guadalupe, Austin, Texas 78713 Google Map Telephone: 512-471-8944