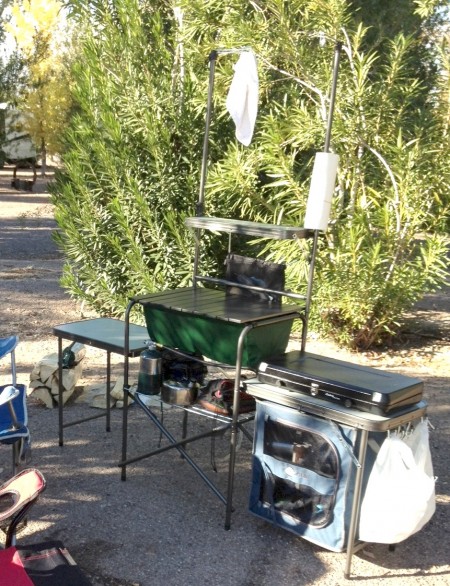 I've talked about my beloved Mega Camp Kitchen before.
Back then, I said,
Having a camp kitchen might seem redundant when almost every campsite has a picnic table, and quite frankly it is, but there are so many times when we have needed the camp kitchen that the thought of camping without one is unpleasant now.
Camping at 3 Dreamers RV Park was one of those times when we needed a camp kitchen. Because they were an RV Park, not a campground, they didn't have the usual picnic table at our site. The camp kitchen was perfect for us.
Here is a video showing how to set up the camp kitchen and the extra additions that we've made to it. These directions will work on the Mega Camp Kitchen With Closets at Sportsman's Warehouse and the Cabela's Standard Camp Kitchen.
The sink on this kitchen is really large, and is impossible to heat enough water in order to wash dishes properly, so we use two bins in them. They stack together nicely and we use one of them to store the propane so it doesn't get damaged on the drive. The bins we use are the Snapware Rectangle 18.5 Cup Bin. We found them at our local grocery store, but it looks like Amazon has them for cheaper than we paid. I really love that the bins hold two cans of propane with an airtight lid, so if there is an accidental release in the car, we have a bit of protection.
Both the Cabela's and the Portal kitchens come with TWO pantries that hang on each side. I just showed the one we use for our dishes. There is another one in which we keep our food, but we don't bring it outside and hang it on the camp kitchen because we don't want the local critters to steal our food, or gnaw their way into our pantry.
The paper towels on the holder worked just fine this trip and we'll probably use that holder from now on instead of putting them through the lantern holders like we used to. I didn't show it, but we always keep a rubber band around our paper towels to keep them from unrolling in the wind. That has worked really well for us as long as we remember to replace the rubber band after using the towels.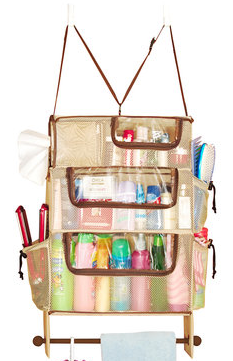 The upper pantry that we added was purchased at Walmart, here is the link: Pro-Mart RV Bathroom Organizer at Walmart. We cut off the towel holder at the bottom and then I cut the long strap on the top and used it to sew two small loops on each side. The metal strip was a couple of dollars at the local hardware store and I cut it to size with a hack saw. I drilled the holes with a normal drill and a bit made for drilling through metal. It was a lot easier than I thought it was going to be to make this addition and I did it all in one day.
I absolutely adore this camp kitchen because it has made every campsite feel like home. There is a space where I can cook and all my dishes are exactly where they usually are every time we go camping. Next time you are planning a trip, consider getting yourself a camp kitchen and see if it helps organize your cooking.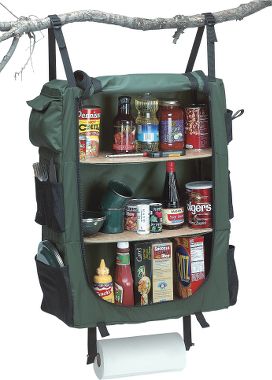 Update 06-22-12: You can also use this Creek Company Hanging Camp Cupboard instead. It's a little easier to find on the Cabela's website than the other organizer and it uses the upper space more effectively. Thanks to Lisa Sperle on Pinterest for bringing that to my attention.