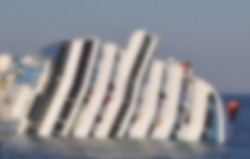 Last January, the first cruise ship to sink in a century was capsized off the coast of Isla del Giglio. It was the Costa Concordia and I talked about it here:
Back then, I said:
My first cruise was on a ship with broken stabilizers, so every other cruise has felt smooth as glass. During that bumpy and lilting first cruise, I kept reassuring myself that we could not possibly sink because the last ship to sink was the Titanic. I had convinced myself that it was impossible for the modern cruise ships to sink. Then I heard about the Costa Concordia sinking just off the coast of Italy last night and all my fears resurfaced.
It has been almost a year since that wreck and the boat is STILL there. Its salvage has proved to be quite a difficult problem.
The disaster, which killed 32 people, left salvage teams facing the unprecedented challenge of removing a ship with a gross tonnage of 114,500 GT without spilling its rotting contents into the sea.
The ship has been sitting there so long that you can now see it on Google Maps: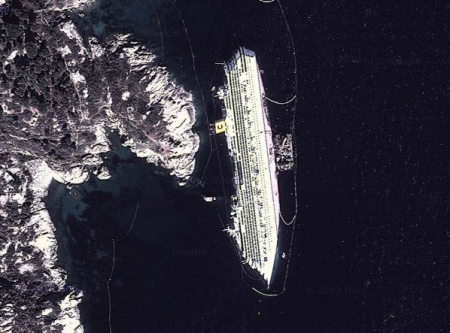 The lawyers for the captain of the Costa Concordia, who is said to have abandoned ship, is placing the blame for the wreck on Carnival and their policies. Here is a news clip from October when they talked about his pre-trial hearing.
Here is another clip highlighting how difficult it has been for their passengers, seeking retribution.
All of this has made me feel less willing to go on a cruise. I think I'll stick with epic road trips across the U.S.A. and not give our money away to Carnival.