After seeing Zadi's favorite traveling apps yesterday, I was surprised that NONE of my favorites were in the list. After looking through my archives, I've talked about these apps a couple of times, but never really featured them. Here are my absolute FAVORITE apps for camping and travel.
Coverage?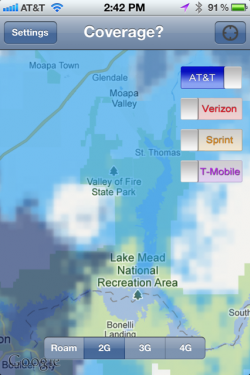 The Coverage? app [iTunes link] easily tells you whether you will have cell phone coverage where you're going. I talked about Coverage? before here:
Back then, I said:
If you look at the map on the right, you can CLEARLY see that there is a big white hole in the middle of Valley of Fire State Park. This is the beauty of the Coverage? app. You can see immediately how likely it is that you'll have coverage on your travels.
Connectivity is really important to me, so I use this app every time we travel someplace new.
Allstays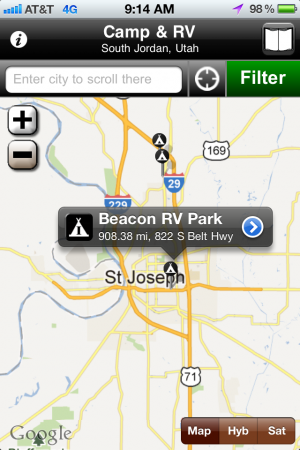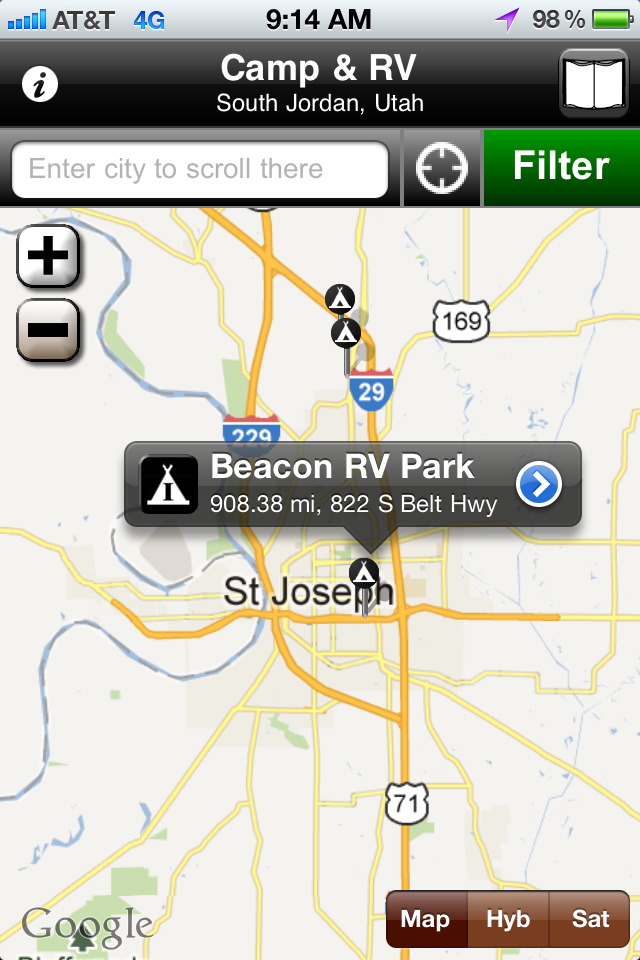 The Allstays iPhone App [iTunes link] shows you what camping sites are near you. This app really bailed us out when we were at a loss for a campsite in Missouri. I talked about it here:
The beauty of leaving our travel schedule open was that Mike and I could drive as far as we wanted and when we were tired we could find a campsite to stop at and sleep. The irresponsibility of leaving our travel schedule open was that we were driving home during Memorial Day weekend.
Fortunately, using Allstays, we were able to find a beautiful campground in a spot we would have never imagined.
Allstays ALSO has listings for gas stations, RV repair facilities and all the Walmart stores that allow (and don't allow) overnight stays. I talked about that here:
Camp Where
As good as Allstays is, it's not perfect. The holes in its list of RV campsites are filled nicely by Camp Where [iTunes link] We used it to find the beautiful campground at Gore Landing in Oklahoma. I talked about it here:
We found [the campground] on the Camp Where app. I looked through comments about the site and one of them mentioned that there was no sign for the campground on the main road. They weren't kidding.
If the app hadn't been so thorough, we wouldn't have ever found that campground. We've come to depend on Camp Where when we plan a trip and when we are out on the road, dead tired and in need of a break.
Cost2Drive
When planning a trip, it really helps to know how much it's going to cost in gas to get there. Cost2Drive [iTunes link] has been really helpful in that matter. In fact, it was the deciding factor when I was doing research on our next epic road trip. I wrote about it here:
I want to go to Disney World. I've never been there and I really want to experience all Disney World has to offer. We live in Salt Lake City, Utah, however, so every time I bring it up, everyone in the family says that we should just go to Disneyland instead. It's almost the same and it's so much closer.

In order to convince them, I have to do RESEARCH. How inexpensively can we do this trip? Today, I did that research for a trip in February and what I found, surprised me.
Without these few apps, many of our trips wouldn't have even come to fruition because we wouldn't have had the information to leave our house without them. They've been my faithful friends for months now and I am so grateful I can turn to them when we get the bug to travel.